The first games you'll want to play on your iPhone
Games starter kit for your iPhone
There's no doubt that the iPhone is a great gaming device. With the amount of games out in the App Store, there's surely a game (or two) for everyone. Here are some games you may want to load on your iPhone when you get it.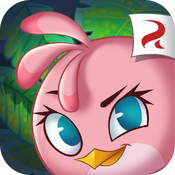 Angry Birds Stella
There is no doubt that Angry Birds is one of the most popular physics-based game out there. With so many different versions available, there is an Angry Birds game for everyone. The latest, Angry Birds Stella, brings us 120 new action-packed levels in the new Golden Island environment. There are also new birds with new superpowers introduced in this addicting game.
Cut the Rope 2
Like other physics puzzle games, Cut the Rope 2 requires you to use gravity, momentum, timing, and other fundamentals of the field to navigate a small candy hanging from a rope into the mouth of a little green monster named Om Nom. The game is simple: cut the rope causing the candy to fall into the monster's mouth. But it's not long before you realize it's going to take a lot more than just cutting a rope to ensure the candy lands safely in Om Nom's mouth. Each level presents new obstacles and tools to use in your objective of feeding this little green guy. This sequel adds new elements to gameplay, as well as new characters and even trickier missions.
Candy Crush Saga
If you are fond of matching games and puzzles, then Candy Crush Saga is a game that you don't want to be without. Journey through a world full of candy with Tiffi and Mr. Toffee. Play alone or challenge friends to see who can get the highest score. Just match three or more of the same types of candies to complete the level objectives within the time given to advance to the next level. This game is packed with tons of levels that may seem simple, but once you begin this game, you won't be able to put it down.
Temple Run 2
The objective of Temple Run 2 is to escape from the temple with the cursed idol. Navigate your way through the cliffs, mines, forests, and zip lines without making a petty mistake. See how far you can run each time and try to beat your last run. The graphics that this game has to offer are superb and the challenges are never a bore.
Plants vs. Zombies™ 2
Zombie fanatics rejoice! Plants vs. Zombies 2 adds a handful of new and fun features when compared to its predecessor. You will still want to defend your lawn against the zombies, but this time you will be facing new zombies. But have no fear, you will be able to choose from both classic and new plants to assemble an army. Best of all, it's free.
Plunder Pirates
Some of us find solace in a game that focuses on building some kind of community. Plunder Pirates is just that and then some. Build a pirate island, then assemble a pirate crew, and attack another rival captain for their treasures.
Breach & Clear
If endless runners and physics puzzle games aren't your favorite, then perhaps you'd enjoy a tactical game. In Breach & Clear you build your own operations team and have them execute advanced missions. Choose from real-world squads like the U.S. Army Rangers, U.S. Navy Seals, or Canada's JTF2. Each character is different and will specialize in their own techniques of combat tailored by you. This game is constantly being updated with new maps, gear, and game modes, making it an essential.
Asphalt 8: Airborne
Looking for the race of your virtual life? Asphalt 8 not only leaves you breathless with its beautiful graphics, but it also gets your adrenaline pumping with the intense driving and added stunts. Choose from 47 high performance cars, explore new exotic locations, and compete in races against other opponents in multiplayer mode. Asphalt 8 proves that great racing games aren't just available for the major game consoles anymore.
Infinity Blade III
The final installment of the Infinity Blade trilogy has arrived with a bang. This game is not only entertaining, but the world is more beautiful than it ever was in the previous versions. Infinity Blade III is a hack and slash game that still provides a great story as you progress. In this version, you are able to play as two characters, Siris and Isa, instead of just one. The addition of the hideout allows you to "craft" in a sense by introducing a gem cutter, potion master, blacksmith, and merchant. This game provides hours of gameplay and is great for the action-seekers.
Defenders
Tower defense games can be a lot of fun. They can also be a little stressful. Defenders may be one of the best the tower defense genre has to offer with a slight twist. Your towers, spells, and traps are all cards that you must collect and eventually upgrade. You earn random cards after every battle, which makes this game experience different for everyone. This game also utilizes the new iOS 8 Metal feature.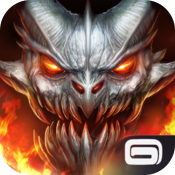 Dungeon Hunter 4
Surely the tower defense game has got your blood pumping? Why not try your hand at a dungeon crawler with this content rich RPG, Dungeon Hunter 4. Choose your class and progress through a storyline while slashing enemies and looting items. Upgrade your skills and refine your gear to make yourself unstoppable. If you get tired of playing the game solo, you can join a co-op game or go head to head with others in PVP mode.
Minecraft – Pocket Edition
Fans of the popular computer game, Minecraft, will be happy to know that there is a mobile version available for both iPhone and iPad. Place blocks, create items from recipes, and go on adventures in this never-ending game. Now, this version is slightly limited compared to the computer version, but it is still a great addition to any new iDevice.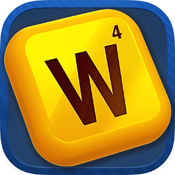 Words With Friends
If you're not much for gaming on your iPhone, but still enjoy a challenge or healthy competition with friends, give Words With Friends a try. It's a great crossword puzzle game, with similarities to Scrabble. Try to gain the most points by strategically placing your letter tiles on the board to create words. If you get tired of the ads, you can always update to the premium version.