Gaming on the iPhone is one of the most intuitive experiences available, especially with the accelerometer and the addition of the gyroscope with iPhone 4 and iPod touch 4. In this guide, I'm going to give my opinion on what I think are the best accelerometer-using games on the AppStore.
Essential Apps
Tilt to Live
This is a great game that has earned a place as a permanent fixture on my iPhone. It features fast and frantic action, with super easy controls; all you do is tilt your device! It is very easy to pick-up and play, it uses Game Center, is Retina Display compatible and has oodles of unlocks and achievements to aim for. What more could you ask for? At $2.99 the price is a little steep, but trust me, once you start playing this game, you won't be able to put it down.
Last Fish
This is one of the most original games I have ever played; the aim is to "Eat food, avoid goo, escape the shadowfish. Survive". It features beautiful black and white Retina Compatible graphics that suit the game very well and very addictive gameplay. Within 15 minutes of downloading the game I was hooked. All puns aside, it's a great little game that deserves more recognition. It has a 5 star rating on the AppStore, and this is well deserved. With Game Center integration, 45 levels and 5 arcade stages, you are getting an awful lot of game for your money.
Notable Apps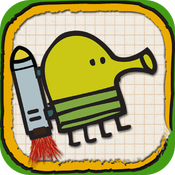 Doodle Jump
This is one of the most successful games on the AppStore, and while I can see why, I wouldn't class it as essential. It is undoubtedly one of the best pick-up and play accelerometer games, but it has very narrow gameplay. I found myself getting bored in the middle of playing it, and although it has regular updates, they only add new artwork to what is essentially exactly the same level. Still, it has international leaderboards and Game Center integration, and it has insanely accurate controls. These features and the regularity of the updates make it a good buy. For only $0.99 it's a steal!
Burn the Rope
Here is another great game with excellent controls. Burn the Rope has lots of levels, so be warned; you could fall into the same trap that Angry Birds and Cut the Rope have set! It's unlike any other game on the AppStore. The simple design and layout of the game are excellent. This game also utilizes the gyroscope of newer iDevices, for very accurate and precise control. It is Retina Display compatible and is supported by Game Center with 30 achievements to collect. It is updated regularly, bringing new levels and features. All in all a great little game for a great price!
Labyrinth
A classic that never goes out of style, the ol' guide-the-ball-to-the-hole-at-the-end-of-the-maze puzzle game never gets tired. This is a great game with great features, such as precision accelerometer controls and realistic gameplay. It also has over 1000 levels, 60FPS gameplay on newer devices and the most true-to-life physics engine I have ever seen on an iPhone app. It is however quite repetitive, and has no Game Center support, which I think is a missed opportunity. It is universal, so you can get this game for all your iOS devices with just one purchase.
Rolando
If you've ever played the PSP game LocoRoco, the first thing you'll notice is the similarity between it and Rolando. But Rolando adds to the experience by adding touch screen capabilities. You tilt the screen to guide a group of balls from the starting point to the ending point, avoiding obstacles by swiping the screen to jump over them. The later levels involve more puzzle-solving elements, which can be fiendishly difficult. There's little to dislike here about the actual game, but the inclusion of an annoying Open Feint-like service gets very frustrating, especially as it prompts you to sign up every time you open the app. One of the first accelerometer games on the AppStore, Rolando is still great fun.
Super Monkey Ball 2
The sequel to the first ever game on the AppStore, Super Monkey Ball 2 builds on the good points of the first game and improves the bad points as well. With 115 levels to find your way through and a few minigames thrown in, you certainly get good value for money. With great graphics and a nostalgia-incurring soundtrack, it's difficult to go wrong with this game. You can also play multiplayer over local WiFi, which is great, but I would have liked bluetooth or even online multiplayer even more.
Decent Apps
Cube Runner II
Much like the original free Cube Runner, you "fly your ship across a landscape whilst avoiding the many treacherous cubes which lie in your path". In Cube Runner II however, you also have control over how fast you fly, by tilting your iDevice back or forth. Unfortunately it was a let down after the success of the first game, as you are now paying $1.99 for the same game repackaged. If you look at it objectively, it is a decent game with decent gameplay, but it could have been much better.