Track Your Outdoor Activity With Your iPhone
Best GPS Activity Loggers
GPS is one of the many features that makes the iPhone so great, but what makes that GPS even better are the apps that take advantage of it. This AppGuide will help you find an activity logger that can track your running, hiking, skiing, biking, and other activities while giving you real time results on how you are doing.
Essential Apps
Runmeter GPS Running
Runmeter gives you everything you need in order to have your iPhone check your progress and use the data in any way you wish. Runmeter keeps track of your time, location, distance, elevation, and speed for running, biking, and skiing. One of the main advantages of Runmeter over other apps in its class is the ability to organize your information in a variety of ways. These include a map, graph, and calendar view organized by routes and activities. Overall, Runmeter is fantastic for the serious runner. It is a Swiss army knife of an app and is highly recommended for those who run, bike, ski, and more.
Endomondo Sports Tracker – GPS Track Running Cycling Walking & More
Endomodo is a great free choice as an activity logger and a "personal trainer" alike. Simplistic and rich functionality such as racing, social intergration, and a route finder put Endomodo among the top apps of its kind. If that wasn't enough, there is also a pro app (listed below) that contains other amazing features that many would find useful during outdoor activity. The fact that it's free is the icing on the cake and makes this app a must to try.
runtastic PRO Running & Fitness
The app runtastic PRO is the app for tracking everything you need including running, biking, and other activities. The PRO features of this app include voice feedback during a workout, live tracking, iPod integration, a power song that you can activate for a boost, cheers and messages from friends, heart rate support, competitions, and so much more! There are several training plans available as in-app purchases varying in price based on your needs. Sync with iCloud, share your success story on Facebook, or choose to save all of your workouts at www.runtastic.com.
Notable Apps
AllSport GPS
AllSport GPS is a jack of all trades when it comes to outdoor sports. AllSport can track your location, speed, time, distance traveled, and calories burned. What separates this app from the rest is the number of features it has. If you don't like using a another app for music while you work out, then this app has you covered with a built in music player that plays songs from your music library. This app has an accompanying website to track progress and share your accomplishments, you also get the same option to share with Facebook. AllSport can also download GPS data from Bicycling and Backpacker Magazine as well as from other users. You can also have virtual races against your friends allowing for competition. Although this app is feature rich, it can be a little difficult to navigate at times. That as well as the occasional crash and the high price can steer one away from this app. However, the sheer number of great features outweighs the cons and makes this an app to look at.
GPS Kit - Offline GPS Tracker
GPS Kit is unlike the other apps in the sense that it is for the serious outdoorsman/woman. It was designed for hiking, hunting, camping, skiing, mountain biking, and even fishing. It is perhaps not the ideal app for runners due to the features that are better suited to an adventure in the woods. The amount of features that this app has is just mind blowing and it is like nothing else in the App Store today. To start, there is an amazing feature called radar. Radar is essentially a messaging service that allows you to get the locations of your friends who have GPS Kit as well as have an in-app chat with them. This app also has a nice amount of utilities such as a flashlight (iPhone 4 and newer), a compass, elevation graph, as well as map tracking and measurement. GPS Kit also has support for weather and offline maps. Along with the radar feature, there are other social features included in the app including support for Facebook and Twitter to share your trips and accomplishments. Finally, this app of course has the ability to get information about your speed and pace. GPS Kit is an app for the true outdoors adventurer. If you fit this category, then this app is definitely for you and worth every penny. If not, then the high price and amount of features may not suit your needs and you should look elsewhere.
Nike+ Running
This app records your pace, distance, and route with voice feedback to inform you of your progress. Afterwards, you can send your run to Nikeplus.com. Here you can set future workout goals for yourself, communicate with the Nike+ community, and join challenges. Nike+ also allows you to connect to Facebook and Twitter to tell everyone about your latest accomplishment. A feature called Nike+ Tag was added which allows you and a few friends to play a game of "tag." The app judges who is "it" based on the person who has run the shortest distance. Whether you're a serious runner or not, this may be the perfect app for you.
GPS Tracks
If you're looking to keep your outdoor activities simple and track your coordinates, then GPS Tracks may be the app for you. The app includes a built-in compass and the ability to draw a line from one coordinate to another, providing you with exact distance and arrival time of that trip. It will also track your speed, pace, and distance traveled. Store your favorite locations, add waypoints on a map, and sync using different methods. You can also send your locations to GPS apps such as Navigon, TomTom, Google, or Maps. The app is $0.99, but is well worth it for everything it can do!
iBiker | Indoor and Outdoor Cycling & Heart Rate Monitor Training
For the bikers, there is iBiker. Track your time, distance, pace/speed, and splits with this app. You can also map your route and share your results and maps with friends. One neat thing about this app is that you can listen to voice feedback as you're working out. This app also integrates with several other apps such as Fitbit, MyFitnessPal, LoseIt!, and more.
Strava Run
Strava is the app for someone that wants to see where they stand and continually build on that. It is great for the competitive athletes. The app is simple, but still catches the eye with its UI. Track your runs, see your stats, see where you are against friends, and find places to run. More features await if you decide to go premium later for a monthly or yearly fee.
Decent Apps
Columbia's GPS PAL™
Columbia Sportswear brings us a nifty and beautiful app called Columbia's GPS PAL. The app states that it is to preserve memorable outdoor experiences on the go, but there is so much more to it. You can track and store routes, distance, times, and paces. This app does place heavy emphasis on dynamic journaling than it does for athletic purposes. I would say that it is more for the runner that isn't training at the moment.
Jog Log Pro - GPS Running Tracker
Jog Log Pro is the app for the beginner whom is starting out with a walk or a veteran who runs marathons non-stop. This app includes GPS mapping, custom interval timers, voice cues, heart rate monitor integration, and even a ghost pace. It is not just for running or walking, but also for cycling and swimming. You can also accomplish 20 goals and achievements that are specific to Game Center with its recent integration. There are several in-app purchases offered in this app that cater to different training programs as well.
Zombies, Run!
If you're the type that cannot seem to get into running even after trying multiple apps to train and condition, then perhaps you should approach running from a different direction. Zombies, Run! has taken running to that very next level. From the moment you start your run, you are immersed into the story of the Abel Township and their daily battle against the zombies. Missions can run between 30 minutes to an hour. Between transmissions, you are able to listen to your own playlists while collecting supplies to better certain parts of the base. You can even turn on a feature called "zombie chases," enabling zombies to chase you at random. If running away from zombies isn't motivation enough, I don't know what is. At the end of your run, you can share details through Facebook or Twitter. You can also view your runs online whether you chose GPS mapping or to track your steps. While this app doesn't track nearly as many details some of the other apps in this AppGuide, it is still a great one to have for the motivation or fun.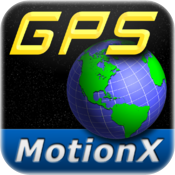 MotionX GPS
Whether you are walking, hiking, running, biking, sailing, skiing, flying, or racing, MotionX GPS is up for the challenge. In addition to being GPS enabled, MotionX allows you to store maps for offline use and you can save tracks for easy access to your favorite places. The app is also capable of recording your time, distance and speed although there is no website to track your progress with. One last unique feature that this app has is the ability to be your tour guide by accessing Wikipedia. MotionX is a jack of all trades when it comes to tracking outdoor activities. While it does not have all of the features of some of the dedicated GPS activity loggers, it's a worthwhile offering.
RunKeeper - GPS Track Running Walking Cycling
Simply put, if you are a runner that just wants the basic controls of the treadmill with a GPS enabled map when you are running outside, then look no further. RunKeeper Pro allows you to track your speed, pace, and distance, just like most of these apps. You can store your workouts online as well as share your progress over Facebook and Twitter. Music is also integrated into the app, so there is no need to jump into the iPod app to listen to your favorite tunes. RunKeeper Pro is an app worth looking at if you are a person who just wants to run and know how you are doing and nothing more.