Listen instead of reading with these apps
Text to speech apps for iPad
Sometimes you need materials read to you, rather than reading them yourself. This AppGuide will help you pick out the best text-to-speech app available for the iPad. Keep in mind, with newer model iPads, you can choose "Speak Selection" in the settings to hear any highlighted text.
Essential Apps
Voice Dream Reader
Voice Dream Reader sets a high standard for apps in the text to speech category. This app features 36 built-in iOS voices that come with the app free of charge and another 146 available as in-app purchases. Voice reading allows you to listen to documents as if they were music files, allowing you to play and pause as you please. There's no need to keep the app open for it to continue reading, it will continue on the lock screen. This app is not just a text to speech app, it is also a fantastic visual reading app, packed with tons of features to help you customize text to your liking.
NaturalReader Text to Speech HD
NaturalReader Text to Speech HD is a fantastic alternative to Voice Dream Reader. If you want a true text to speech app without the added visual reading features, then give NaturalReader a try. Included in this app are 30 voices in 5 different languages. This app will also read text from Word documents, PDFs, webpages, eBooks, inputted text from the keypad, and even documents in your Dropbox account. Sadly, free users can only listen to 100 minutes without interruption. To be rid of the interruptions, you can upgrade to the Premium version for $9.99.
Notable Apps
Aloud! - Text to speech
If you're looking to a Text to speech app that is simple, easy to use, and features a few added bonuses without over-complicating the app, then Aloud! just may be the app you are looking for. Let Aloud! read text for you, whether it's plain text, a PDF, ePub, or HTML file. Multiple languages are supported in this app as well as different reading speeds. You can also save articles within the app, but sadly it is not unlimited. No worries, though: you can simply unlock unlimited article storage through an in-app purchase.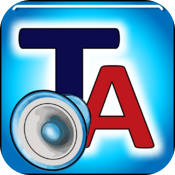 TextAloud
TextAloud is one of the more bare apps in this category, but don't let that fool you. It does what it's supposed to do and it does it well. Listen to articles that you create from text you've copied to the clipboard in any app and have it read to you in TextAloud. You can also configure your settings to delete text once it has been read. Yes, this app is missing features that the PC version has, but it is still a good app.
Web Reader HD - Text to Speech Page Reader
Web Reader HD is a web browser designed to read the web to you. The app is a great alternative to other apps that only work with you inputting text. The app allows you to choose where in the web page you want it to start reading. The app can also be configured to start reading once loaded. If you are in the market for an app that is only a web browser that reads to you, then this is the app to get.
Decent Apps
Speak it! Text to Speech
Speak it! is an app for converting written words into spoken words. The app includes four high quality voices for $1.99 and includes some very advanced features. The app will highlight your words as they are read and can even save your spoken words as an audio file. The app also includes a pause button in case you need to take a break for a long reading. The app also lets you change the playback rate. Sadly, the app hasn't been updated since 2013, so we are putting it in the decent category.
Voice Generator
Voice Generator is a simple app that speaks text you input. The voices sound more computer generated than many of the other apps available. The app does let you customize the voice through pitch, variance, and speed settings. The interface is well done. The app comes with four voices, two male and two female, with the ability to buy other voices for $0.99 apiece. The app annoys the user with popup ads requesting to download another free app by the same developer. The app is more highly tuned to deliver a single sentence rather than a full page of text. The app simply cannot compete with the essential or notable apps. But, this is a decent free option.