Don't we all want to look as strong as people that we see in magazines and on TV? Now you can get a muscular body by using the workouts taught by the apps in this AppList.
Weight Lifting and Weight Training - Scientifically Founded Weightlifting
This weight lifting app teaches you how to lift weights effectively. There is not much else to say about this app except that the advice is vast and effective. Overall, you should try this app if you don't know the best way to lift weights.
Lift Assist
Lift Assist is a great app for those who are unsure of how much weight they should be benching. The way it works is by first entering in the type of training you want (muscle growth strength, endurance and stabilization), following that you have to enter your actual weight. The app will then return the amount of weight you should be lifting as well as the total number of reps and rest time. Overall, this is a great app for those who bench press and want to find out how they can get the most out of it.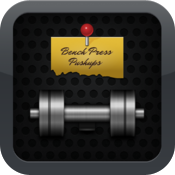 FitnessTrack
FitnessTrack is an app that tracks your workouts including weight lifting. After entering the exercise you are doing, the app tracks your progress as well as your body measurements if you wish to enter them. It also offers recommended exercises to you if you do not know what to do. This app, while basic, can be very useful to someone who likes tracking their progress to help them move forward.
Weight Training 4 Noobs
This weight lifting app offers video tutorials that teach you how to lift weights correctly. Unfortunately, it needs internet connection to function properly and doesn't offer as many tutorials as other apps that do not provide video. However, if you are a visual learner and prefer to watch tutorials rather than reading them, then give this app a shot.
Body Building Coach For Shoulders & Arms
This body building coach gives exercises focusing on your shoulders and arms only. It also provides training videos for some exercises if you would rather watch the training. Overall, this app is good if you want to focus on that specific part of your body.
Body Building Coach For Chest & Back
This app is the same as Body Building Coach for Shoulders and Arms except for the fact that it focuses on your chest and back.