Diamond Ring Shopping On iOS
There are a bunch of different apps to help you purchase your next diamond ring. Not many people may have a need for these, but for those that do, finding the right app is essential.
Essential Apps
RingFinder - The Private Collection of Southern African Diamonds
RingFinder is an app that lets you browse and discover rings from Southern African Diamonds. The app will also let you find retail stores, which is great for checking the rings out in person. The app includes price filtering and detailed information about the rings. RingFinder is the essential ring buying app. The app runs on both your iPad and iPhone. The stone provider works with hundreds upon hundreds of retail and online stores, which makes purchasing rings easy. The app is very well made and includes tons of information on each ring. RingFinder is the app to have for those buying a new diamond ring. Those who are concerned about "Blood Diamonds" can rest easy. SA Gems, the maker of this app, is a socially responsible company. From their web site: "We are the only diamond house in the industry that offers its jewelers and interested consumers inspection of our supply chain, including the opportunity to visit the diamond mines and cutting factories of Southern Africa." Additionally SA Gems donates a percentage of sales to Global Giving, a charity dedicated to helping improve living conditions for South African residents living in poverty. This app really helps take the stress out of ring shopping and helps others at the same time.
Notable Apps
Blue Nile
Blue Nile helps you build your own custom ring right on the iPhone. We would love to see an iPad version come out. The iPhone is a great tool, but when you are spending a lot of cash an iPad may be more appropriate. The iPhone app has tons of customization options and provides many purchasing options. If the essential app doesn't do it for you this one should!
My Jeweler - Diamond and jewelry pricing calculator
My Jeweler will not help you find the right ring. The app will help you understand what the ring is worth and how much to spend on it. The app is a perfect complement to the essential app because of this great price estimation ability. The app will run on both your iPad and iPhone. The app is a little pricy, but if it is saving you hundreds, even thousands of dollars it may be worth it.
Decent Apps
DiamondPrice
DiamondPrice is an iPhone only app that helps you calculate the price of diamonds. The app has an okay interface. We would recommend the My Jeweler app if you have a need for such an app.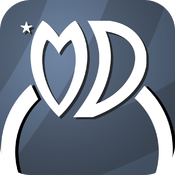 Engagement Rings
Engagement Rings is an app that has some promise, but right now doesn't deliver. The app aims to help you pick out the perfect engagement ring. The app helps you look through different styles of rings. The app does provide a way to order rings. We would recommend the essential app if you are really looking for a ring buying app.