Get The Latest Scoop With RSS On Your iPad
RSS Readers For The iPad
The announcement that Google Reader will shut down on July 1 has left many users and app developers scrambling for a new way to handle their RSS feeds. For iPad RSS readers, the problem is that Google Reader was the easiest way to implement two core features: obtaining feed information and syncing. In Google's absence, apps will need to tie into a different service, or create their own service. It is too early to say which solution most apps will choose, or which solution will ultimately prove to be more effective, as many of the options are still in development. Until Google Reader actually shuts down, it will be difficult to tell which apps will be "best" in a post-Google world. Thus, this AppGuide is a little different: apps that have not implemented a post-Google plan have been moved to a separate list, with information about their previous ranking and proposed plan featured prominently, which means that there are far fewer featured apps than normal. Rest assured that we will update this list when more information is available.
Essential Apps
Feedly: Your Google Reader, Youtube, Google News, RSS News Reader
Feedly has likely gained the most from Google's announcement, as the developers announced a forthcoming syncing solution that is supposed to be modeled on the Google Reader API. Current Feedly users shouldn't even notice a difference when they open the app on July 1. Although Feedly is best known for presenting Google Reader feeds in an attractive, magazine-style layout, the app has made some changes to accomodate and attract stranded Google Reader users. The most significant additions are a list-based view and more customization options, including saving for later, gestures, and display. Although there are still some frustratingly opaque UI choices, Feedly is one of the most essential apps for every Google Reader user to have before July 1. Whatever solution you ultimately decide to use for RSS reading, on July 1 you will want an app that will seemlessly load your Google Reader feeds on all platforms, and right now Feedly may be it.
NewsBlur
NewsBlur is arguably the only true Google Reader replacement currently available, as it is both a full-featured RSS service and an app. Once you create an account with NewsBlur, you can add or import (and then follow) up to 64 feeds for free, or an unlimited number of feeds for $2 a month or $24 a year. Although a paid account offers advantages in feed caching speed, a free account is perfectly usable and has a solid feature set. The app is more utilitarian than flashy, but it is a great option for reading your RSS feeds. More importantly, you can import your Google Reader feeds and then read them on the web or any of your iOS devices.
Newsify: Google Reader RSS News
Newsify's developers have outlined a post-Google Reader plan that is concrete enough to satisfy anyone worrying that the app won't work on July 1. The twofold plan involves incorporating iCloud syncing and internal feed handling to make sure the app keeps working as is. Later, the developers will decide which replacement syncing services to support. Certainty that Newsify will work on July 1 should be a relief to many, as it is one of the most polished and widely appealing RSS apps available. Newsify is particularly notable for being exceptionally malleable— the app can display feeds as a Flipboard-style magazine or an old school Google Reader style list. In fact, Newsify offers users as much or as little control over the app's behavior as they want. The developers also continually update the app to correct even minor bugs and add features (including ones requested in the last version of this AppGuide!). The only minor quibble I have is that I would prefer either more gestures or buttons on the list view to mark read/unread or star/unstar.
Notable Apps
Flipboard: Your Social News Magazine
Even though Flipboard never relied on Google Reader syncing, it is a great option for displaced Google users. That's because Flipboard announced that Google Reader users who link their accounts with a Flipboard account will have access to their feeds and starred items immediately and in perpetuity, even after July 1. The feeds and folders in your Google Reader account can then become parts of your Flipboard, presented in the same visually-oriented, magazine style layout. Aside from the Google Reader implementation, Flipboard offers the ability to follow any RSS feed you enter, or browse through the app's catalog of sources and content curated by Flipboard or its users. The one feature Flipboard lacks is a webapp so that you can view your feeds on a computer.
Pulse: Your News, Blog, Magazine and Social Reader
Although Pulse is best-known for its curated content, the app makes it easy to migrate your Google Reader feeds to a Pulse account. Once you login with your Google Reader credentials, you can add any or all of your feeds. You can also add content from Pulse's curated sections or featured sources, and even link your Facebook, Twitter, and/or Readability accounts. If you create a Pulse account, everything will be kept in sync and viewable on the web, iPhone, or iPad. Pulse has been widely acclaimed for its innovative design, but that design may be off-putting for some. Pulse divides feeds into individually scrollable rows of thumbnails for each article. The result is a screen filled with images of equal size and no focal point for your eye. The interface can seem overwhelming, which makes it difficult to focus on a single feed. Aside from Pulse's interface issues, its combination of curated content and Google Reader integration makes it a great option.
Taptu - DJ your News
Taptu is one of the less hyped curated content RSS readers, but it distinguishes itself by being available on all platforms, including web, iOS, Android, Nook, and Blackberry. The app allows you to import your Google Reader feeds, which will then be synced via your Taptu account. The app presents your feeds in horizontal, scrollable lists, but allows users to customize the feeds on a more granular level.
lire for iPad (Full-text RSS)
Lire for iPad never offered Google Reader sync, so it will not be affected by the closure. In place of sync, lire offers users robust options for reading RSS feeds offline. Specifically, lire for iPad can cache the full text of the first 15 articles of each feed. Users who want more caching can buy unlimited full-text caching of all articles via in-app purchase. Since lire is caching full text feeds, the app is initially slow to load. Once feeds are loaded, lire for iPad's presentation and interface make up for the wait.
Decent Apps
Zite
Zite is primarily a "social news" app that presents your news in categories or topics instead of traditional RSS feeds. However, Zite recently added the ability to import Google Reader feeds, thereby making it an option for an RSS reader that syncs. Unfortunately, Zite's import function lumps all your feeds together into a single topic, which makes it very difficult to read specific RSS feeds. This restriction makes sense given that the app only allows users to add certain provided RSS feeds and content categories curated by Zite. The app itself is very clean-looking, visually interesting, and easy to use.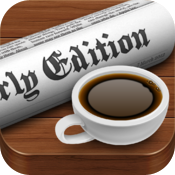 The Early Edition 2
The Early Edition 2 currently offers Google Reader syncing, but its developer has not announced any replacements. Therefore, we are treating The Early Edition 2 as a standalone RSS reader in this AppGuide, for which it is a fantastic option. As the name implies, the Early Edition 2 renders your feeds in a layout designed to look like a printed newspaper, with sections, headings, page numbers, and double pages in landscape orientation. The pages flip like a newspaper when you turn them, the text is crisp and the contrast between text and background is excellent. If you share an article to another service (e.g., Twitter or Instapaper), the animation resembles sending a traditional manila envelope. The app's only real flaw is that it can be slow to load feeds, especially images (although some may argue its focus on text instead of images is another flaw).
NewsRack
Although NewsRack supports syncing to Google Reader, it is unclear whether the app will support any alternative service come July 1. Therefore, NewsRack is essentially a local RSS feed reader. As such, NewsRack offers all of the essential features of an RSS reader, but it is very slow to load feeds. In addition, the app's interface is rather clunky and poorly designed for reading multiple feeds.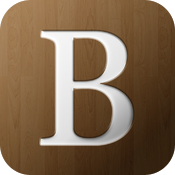 Blogshelf II
Blogshelf is exactly what the name suggests: a shelf with content from blogs. The app's interface resembles iBooks' wooden shelf with book covers, only in this case the covers are blog titles. Blogshelf makes it easy for you to add content by providing an extensive collection of "top blogs" in many categories.
Trapit for iPad
TrapIt sets itself apart from the competition by curating content for any topic you enter. Once you register, TrapIt asks you to choose topics you're interested in and then the app gathers and displays content related to that topic. TrapIt also comes with featured streams (or "traps") that you can subscribe to and will modify the content it displays based on the articles you like.